Paraffin
Refined paraffin can be mainly divided into different products such as 135 ° F, 140 ° F and 145 ° F according to its melting point. The main uses of refined paraffin are traditional candles for general religions or temples, artistic candles for decorative purposes and powder for painting Additives such as crayons, and 145 ° F refined paraffin can also be used as industrial formula waxes, such as carton moisture-proof coatings, rubber tire waxes, and encapsulants for dry battery charcoal. The wide range of paraffin applications is closely related to the development of various industries. Its important properties are the following: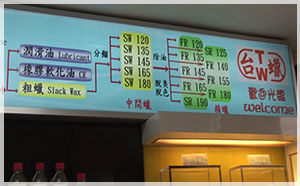 (1) Crude wax extracted from crude oil and then distilled under reduced pressure
(2) The composition of hydrocarbons with a carbon number distribution between 20 and 55 and a molecular weight between 280 and 800 can be confirmed by gas chromatography
(3) There are usually 60-80% of linear hydrocarbons, and the crystal particles are relatively large.
(4) Often has the following characteristics:
a. Can withstand the hardness of nails
b. Extremely low volatility
c. Easy to melt at 50

~

70

℃
d. Low viscosity in molten state
e. Good moisture resistance, water resistance and fragrance retention
f. Odorless and tasteless
g. Large latent heat
h. Can be broken down by microorganisms
Microcrystalline Wax
Microcrystalline wax and refined paraffin are produced by crude wax fractionation and refining according to their melting points. Paraffin with a melting point above 180 ° F will form microcrystalline, so it is called microcrystalline wax. Microcrystalline wax is mainly used as additives for PVC rubber resins, thickeners for chewing gum, ink additives for printers, additives for sports shoes and insulation for advanced electronic products. Microcrystalline wax production is directly proportional to refined paraffin. Its important qualities are as follows:
(1) The same as paraffin wax, which is obtained by vacuum distillation of crude wax, but the temperature is higher
(2) The carbon number is between 40 and 80, the molecular weight is between 500 and 800, and the melting point is higher than that of paraffin.
(3) High content of iso-hydrocarbons, up to 50-70%